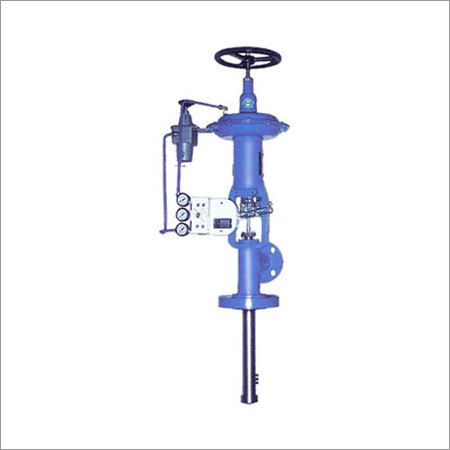 Product Description
With our rich industry experience in this domain, we are dedicatedly engaged in offering Desuperheater Valves that are a critical component utilized in the management of steam from power generation sources to industrial uses of steam. These are manufactured using advanced technology in sync with the market norms. We offer these valves in various specifications as per customer's choices. Our offered Desuperheater Valves are featured with Multi-nozzle injection coolers with fixed or spring loaded nozzles & also available as controlled Desuperheaters with integrated spray control valve.
Technical Specifications
Design

ASME B16-34

Valve size

3 X 1.1/2 UPTO 600 ANSI
4 X 2 UPTO 900 TO 1500 ANSI

Nozzle size

Refer to Fig 1.

Rangeability

Maximum 45 to 1.

Valve travel

38mm.

Material




Body

ASME A216 Gr. WCB (<425º C)
ASME A217 Gr. WC6/9 (<550º C)

Body tube

Stainless Steel.

Guide /seat

Stellited 6

Plug/stem

Stellited 6/316L

Sealing rings

Carbon

Atomisers

316 Stainless Steel (CF8m)

Packing

Grafoil

End connection

Refer Table No. 2.

Flow characteristics

Refer Fig No. 3.

Actuator

Diaphragm with TMH

Diaphragm

Nitrile / Neoprene.

Spring range

3 – 15 PSIG (0.2 – 1.0 Kg/cm²)
6 – 30 PSIG (0.4 – 2.0 Kg/cm²)

Air supply

20 – 35 PSIG (1.4 – 2.5 Kg/cm²)

Air connection

1/ 4" or 1/ 2" NPT

Accessories optional

Valve Positioner – Pneumatic, E/P, Smart, Airset, Solenoid Valve, Air Lock, Volume Booster, Position Transmitter, Limit Switches etc.
Contact Us
No. 11, Jai Mata Di Compound, Kalher, Bhiwandi, Maharashtra, 400607, India
Phone :+918068093473