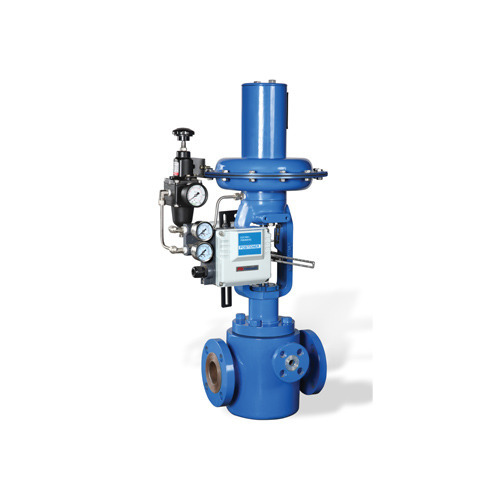 Product Description
Our enterprise is actively engaged in offering a broad range of Steam Jacketed Control Valve which ensures the direction of flow of liquid in any direction & demanded for several applications where stop or regulating of fluid is required under high pressure and/or temperature conditions. This is widely known among the clients for their wide applicability in industrial usage & it can be electrically or manually operates. The offered valve is inspected by quality experts, in order to meet international quality standards.
Technical Specifications
Design

ASME B16-34

Valve Size

15 to 450 mm ( 1/2" to 18" )

Rating

ANSI 150 to 2500 or Equivalents to BS, DIN, etc.

Face To Face

ISA S.75.03 1985 up to 600
ISA S.75.16 900 and above

End Connection

Flanged, Screwed, Butt Weld, Socket weld.

Body Materials

Carbon Steel, Chrome-moly Steel, Stainless Steel,
Monel, Alloy20, Hastelloy B/C, PP, Ptfe etc.
Ptfe Lined / Ptfe Metal Housed

Bonnet

Standard upto 250°C
Normalizing (Finned) between 250°C to 500°C
Extended cold service – 20°C to – 200°C
Extended Bellows seals.

Gland Packing

Grafoil / PTFE V Rings.

Trim Designs

Top Guided Contoured, Splined Micro Flow,
V-Ported (Balanced / Unbalanced),
Low Noise ( LN1, LN2, LN3, LN4 )

Trim Materials

Stainless Steel, Alloy20, Monel,
Hastelloy B/C, Stellite (Alloy 6 )

Characteristics

Equal Percentage, Linear and Quick Opening.

Seat Leakage

As per FCI-70-2 (ANSI B 16.104) Class III. IV, V
and VI ( STANDARD LEAKAGE RATES )
Metal to Metal Seating Class IV,
Less than 0.01% of rated Cv.
Metal to Soft Seating – Bubble tight (Zero Leakage)

Actuator Type

Diaphragm, Cylinder or Electric.

Actuator Action

Direct / Reverse Acting.

Diaphragm

Nitrile / Neoprene

Spring Ranges

3 – 15 PSIG ( 0.2 – 1.0 Kg/cm² )
6 – 30 PSIG ( 0.4 – 2.0 Kg/cm² )

Air Supply

20 – 35 PSIG (1.4 – 2.5 Kg/cm² )

Air Connection

1/ 4" or 1/ 2" NPT

Handwheel

Top or Side Mounted Handwheel

Accessories Optional

Valve Positioner – Pneumatic , Electro Pneumatic,
Smart Positioner, Airset, Solenoid Valve, Air Lock,
Volume Booster, I/P Converter, Position
Transmitter, Limit – Proximity Switches etc.
Removable Blind Head, Steam Jacketing, etc.
Contact Us
No. 11, Jai Mata Di Compound, Kalher, Bhiwandi, Maharashtra, 400607, India
Phone :+918068093473